This is my first bot and it's made for a browser game called Forge of Empires as you can see from the name. It's a work in progress so if you find any bugs or you would like to see a feature added please write it here.
Latest version:
1.6.5.0 (2014-05-28)
Tested on game version:
1.27
Features:
Collect items (gold, production, goods, military ...)
Clear stale production
Clear plundered production
Automatically train military units
Start supplies production
Start goods production
Spend forge points
Support other players by motivate/polish
Auto relog
Proxy options
Resource display
Remember login information
Notifications (forge points full, blueprint found ...)
Run in system tray
Run on Windows startup
Latest version check
All countries supported
Make sure you check the preferences of the application if you want to disable/enable a feature or change any other settings.
Requirements:
You must have Microsoft .NET Framework 4.0 installed.
Download Microsoft .NET Framework 4 (Standalone Installer) from Official Microsoft Download Center
How to use the bot:
Simply start it, enter your account information and click on login and the bot will start working.
All the information about what the application is doing can be seen in the Info and Log tab.
How to set Support options:
There are two main support options: Globa and Custom.
Global is affected for every player with the exception of players in Custom.
Search order is the order in with the bottom Priorities will be excecuted to find the building to support.
Priorities tell the search algorithm which building to support if there are more than one.
Custom options must be set for every player that has a special support building search.
One of the important options is the strict checkbox. If the checbox is checked then the player will only be support if the match is found. If the checkbox is not checked and no building was matched then that player is supported with the Global rules.
This is useful for example if you want to polish a player but if no building is currently polishable then pick another building by the Global rules.
To use the forge points spending feature you must first enable it the preferences (1), then you must choose where to spend your points on (research or great building (2)) and the last thing is limit when to spend forge points (3). Forge points will only be spend when you have more of them than the number you set (3).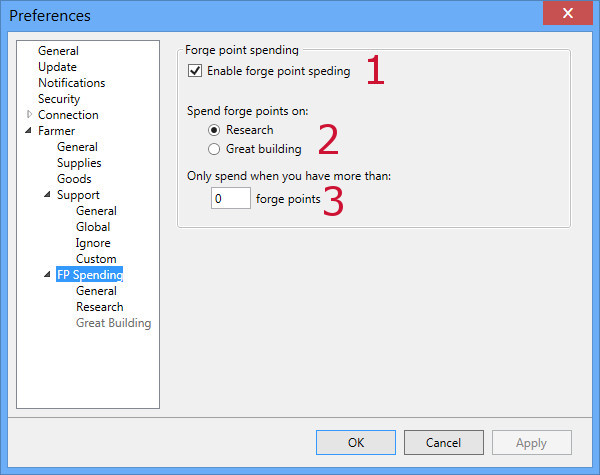 Spending forge points on research:
If you choose to spend forge points on research you can set additional options in the Research tab. The only option there is if you would like the research to also be unlocked when you have sufficient resources (1).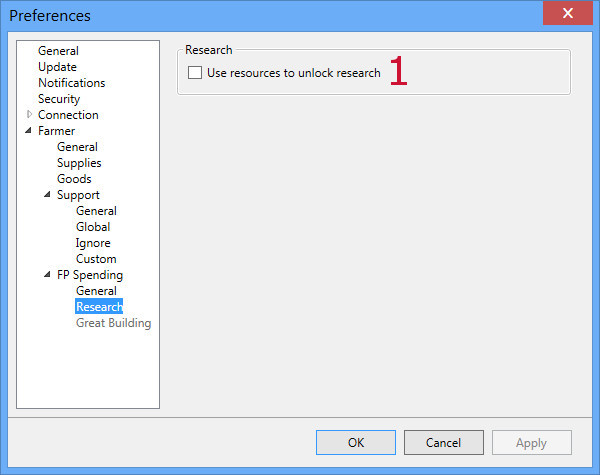 Spending forge points on great building:
If you choose to spend forge points on a great building you can set additional options in the Great building tab. There are two options that you must set. First is the name of the player (must be your neighbour, guild member, friend or yourself) that has the great building that you want to spend forge points on (1). The second option is the great building that you want to spend forge points on (2).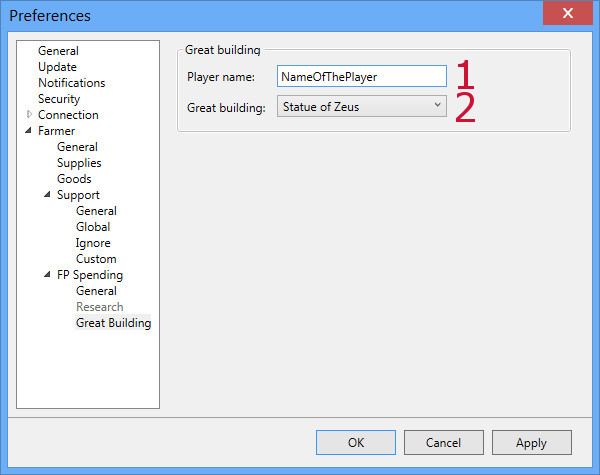 Bugs:
Also send me the Application.log file if the error is seen in the log.
Requested features:
Multiple accounts
Auto-add people to friends list
Auto-attack neighbours
Auto-steal player buildings
Great building information
See and create trades
Save notifications on application close
Military buy slots
Script support
Localization
Auto-update
Linux, OS X support
[Partially implemented]Better pickup / start production information
Chat, ingame mail
Spend FP on great buildings and research
Facebook and google login
Working on:
Download Now
Forge of Empires Farmer - Source Code
Forge of Empires Farmer v1.6.5.0
DISCLAIMER:
'hotshotgamers.net' does not host any of the files mentioned on this blog. This blog only points out to various links on the Internet that already exist and are uploaded by other websites or users in
www.pcgamers.net
www.citpekalongan.com
ramleague.net
and more. I don't create cheat I don't know anything about coding. Using cheat may ban your account permanently. Use at your own risk!